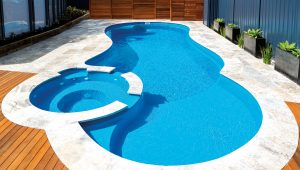 Salt chlorine generator systems sanitize swimming pools by converting salt into chlorine, which kills pathogens and bacteria before returning to its former state, salt. The system converts salt to chlorine by passing the dissolved salt in the pool water through a small chamber (salt chlorinator cell) installed along the swimming pool's water circulation system. These cells contain parallel titanium plates coated with either ruthenium or iridium. The plates are electronically charged to produce hypochlorous acid(HOCl), and sodium hypochlorite (NaClO) from the salt.
Salt water pools are not actually chlorine-free; they use a chlorine generator instead of directly adding liquid chlorine or chlorine tablets to the swimming pool.
With most salt chlorine generator systems, a salt content of around 3,000 ppm (parts per million) is desirable, but this can range from 1,800 to 4,000 ppm, depending on the system requirements. As a reference, ocean water has a salt content of approximately 35,000 ppm and humans generally have a salt taste threshold of around 3,500 – 6,000 ppm.
In theory, there is no need to add salt to a salt chlorine generator system, but in actual practice most swimming pools do need salt added consistently due to splash-out, backwashing, dilution from rainwater, and leaks. Generally, most people swimming in salt water pools feel the water is softer, has a lower chlorine scent, and they have fewer incidences of dry skin and burning eyes.
Although salt chlorine generator systems have many benefits, there are many issues that some pool stores neglect to mention when selling these systems. The following is a list of advantages and disadvantages, along with some practical advice if you already have a salt chlorine generator system.